29-11-2013 \ Friday
They Lead: REG LASCARIS
Co-founder of leading advertising agency TBWA\Hunt\Lascaris, and President of TBWA group  in Africa & the Middle East regions speaks to Design Indaba about his successful journey in the South African advertising industry. He in adamant about  the need for young people to be brave in their entrepreneurial pursuits as the entrepreneurial path is one less travelled with its own share of crazy obstacles – as one would imagine. He is also an author, and has written a number of books (some of them collaborative efforts). Here's a list of his works: (hover over & click on the titles to be re-directed to more information)
Third World Destiny | Communication in the Third World | Fire & Water | The South African Dream, and…his most recent,  
Lessons From The Boot of a Car – 230 ZAR
I think you'll enjoy this – I truly did. How dope are those two BMW ads???! I'm mildly obsessed with the one of the BMW mercury idea. Brilliant!
__________________
22-10-2013 \ Tuesday
NO SHORTAGE OF BRAINS…& YET…
I just came across this image on Abey Mokgwatsane's (CEO: Ogilvy & Mather SA) twitter page.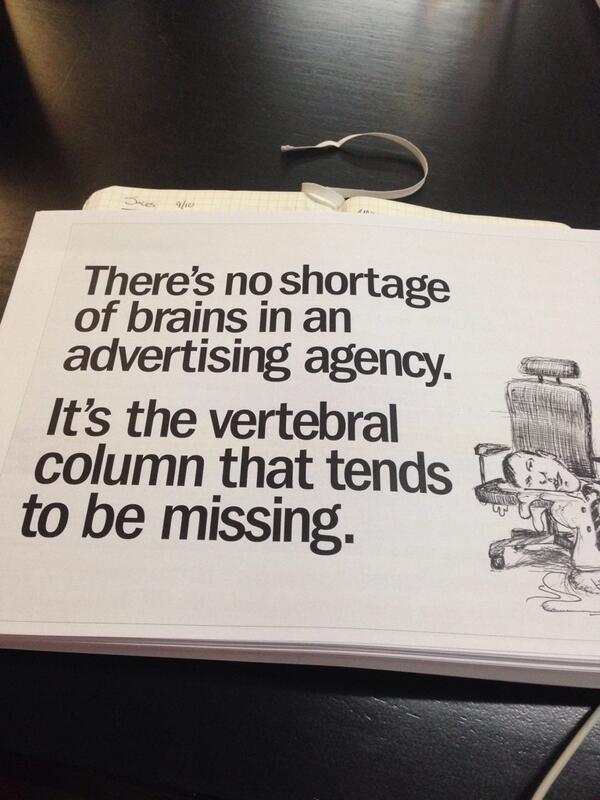 Set up for exclusive/private viewership on their – and only their – Vimeo account, this below-02:00 'elevator pitch' by Mr. Mokgwatsane selling O&M SA (aka The University of Advertising) to potential stakeholders has some serious yet subtle WOW factor. The conviction & eloquence = perfection!
Click to be re-directed to the O&M SA Vimeo account.